Help Tsunami & Quake Victims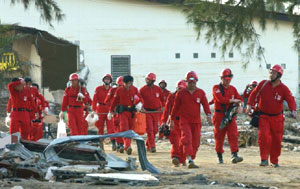 Taiwanese rescue workers make their way for an afternoon break as they search for bodies in Khao Lak, Thailand.
Photo: Apichart Weerawong, Associated Press.
Members of the rock group Linkin Park contributed a total of $100,000 to team with the American Red Cross in setting up the Music for Relief organization.
In Hong Kong, Jackie Chan and other celebrities like Chow Yun-Fat, Stephen Chow, Andy Lau, and Leon Lai, each donated tens of thousands to UNICEF.
For the rest of us, we may not be able to travel to the affected areas to help in person, or to shell out such generous amounts of money at a time. But we can still do our part, even if it's just a few dollars. Because if everyone does that, the contributions can add up to a substential sum.
Paypal has made it convenient for those with a Paypal account to contribute directly to UNICEF's Tsunami Disaster Relief Effort. They will also waive all fees in relation to the donation, so that UNICEF will receive 100% of the amount you donate.
You can also choose to support Plan USA's effort in helping children and families in Sri Lanka, India, Indonesia, Bangladesh and Thailand. Funds will be used to support both short and long-term relief and rehabilitation in all affected countries.
Do what we can, within our means, and always remember to count our blessings...
Posted by cybette at December 31, 2004 01:00 AM