Brigida-fany Mayta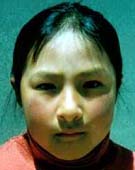 This is the lovely 9-year-old Brigida-fany Mayta from Bolivia that I'm sponsoring through Childreach / Plan USA.
I have received a couple of letters from her and several new pictures which I'll put up when I get around to scanning them. Speaking of which, I need to write to her again soon. If not, she might think that I've forgotten about her!
Wonder what she thought of the pictures we sent her the last time. Those were pictures of me and Bruce. Hope we didn't scare her or something! Heheh...
Hmm, wonder if one day we'll make a trip to Bolivia to see her. Or perhaps we might fly her to U.S. to visit us? I'm also considering to sponsor a couple more kids when I get a job...

Posted by cybette at March 14, 2004 06:00 AM